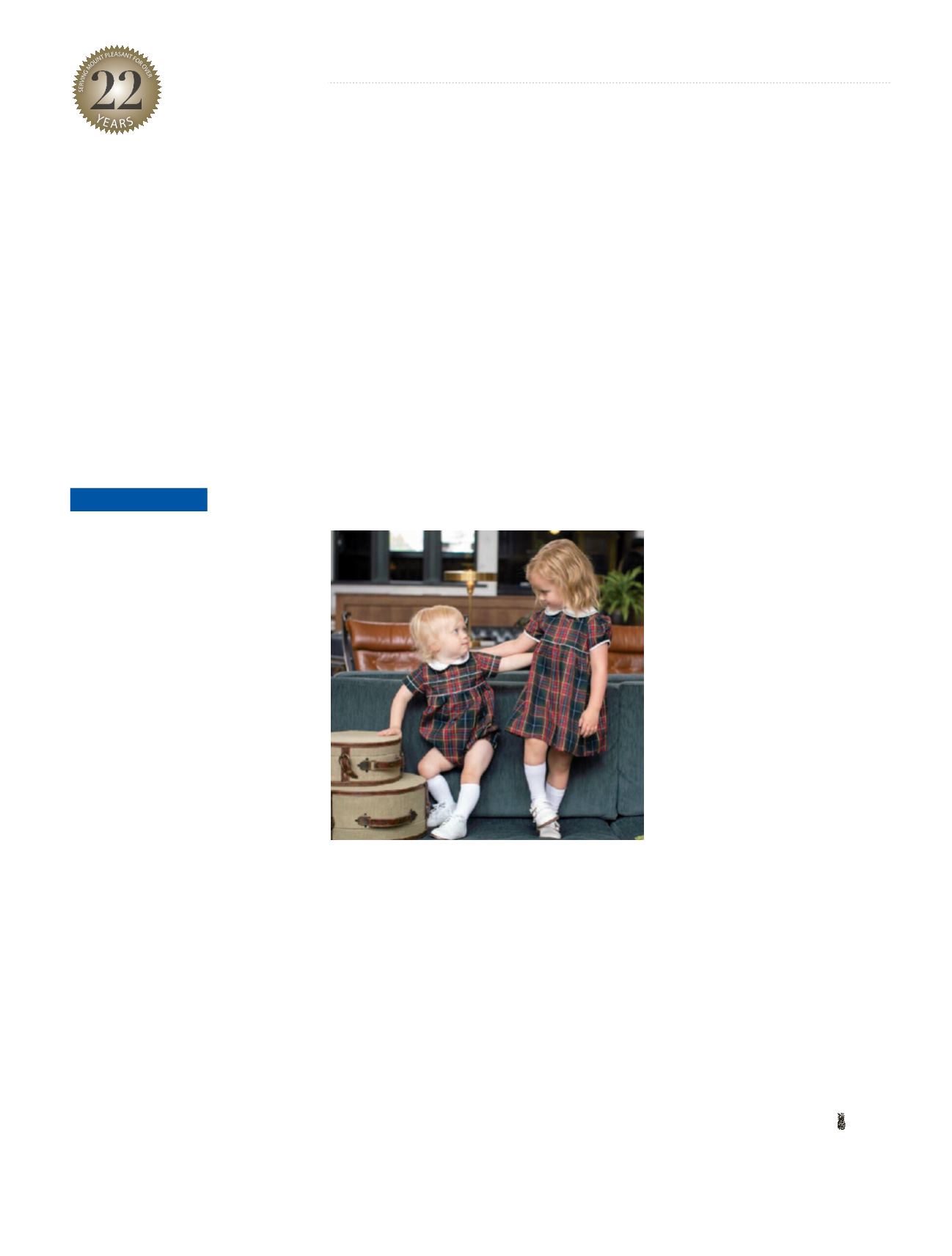 Kid Friendly Couture
Southern Belles Children's Boutique
I
n Charleston and Mount
Pleasant, folks are pretty fashion forward. From
bold bowties to sweet sundresses, people make
sure to dress their very best regardless of the
occasion. Adults aren't the only ones rocking
eye-catching ensembles in the Lowcountry. Just
ask Susie Molony, owner of Southern Belles
Children's Boutique. Her shop, at 280 W. Coleman Blvd.,
has attracted quite the up-and-
coming clientele. From newborns to
preteens, she makes sure to keep
those at the kiddie table looking
on point.
"I love seeing the smiling face
of a little child when they get a
new outfit or pair of shoes," said
Molony. "It also brings me great
joy to know customers have come
here to get a special outfit for
their child."
From first birthdays to first
Holy Communions, Molony
has been there to dress children
through all the special events of
their youth. Getting to know each
family and helping their children
look their best for all of life's grand
affairs, and all the moments in
between, has truly been her calling.
As a girl, Molony would spend hours dressing up her
dolls or carefully cutting out miniature jackets and skirts
for her collection of paper dolls. Creative, innovative and
entrepreneurial, Molony comes from a long line of stylish
women skilled at the art of crafting.
"My grandmother was an excellent seamstress and
made all of my clothes for my sister and me when we were
little," said Molony. "My mother would make doll clothes
from the leftover fabric, so my dolls had an impressive
wardrobe!"
When Molony had her own daughter, she became
inspired to create a line of play clothes that were both
functional and cute.
"I started hand-painting on T-shirts and casual wear
and later changed over to appliqued designs. I created
a line of children's appliqued and embroidered clothing
under the label of Southern Belles," said Molony. "I
did home shows, holiday markets and trade shows for
several years before settling down to a brick-and-mortar
storefront. I think my entrepreneurial spirit just evolved
over the years."
Whether you are looking for a Clemson shirt, a fitted
peacoat or a book bag for school, Southern Belles is
the one-stop-shop for all your
kid-related items. They even
carry a line of chunky necklaces
for moms called Chewable
Charms, which are designed to
add a little flair to your look
while keeping those teething
toddlers satisfied. Templeton
Silver Pacifier Clips can be worn
as bracelets when your child no
longer requires them.
"It's hard to set yourself apart
these days when there's so much
competition in the children's
industry, and manufacturers and
sales representatives don't protect
you like they once did in keeping
certain lines exclusive to one
store in an area," said Molony. "I try to set myself apart
by offering the very best selection of the most wonderful
children's clothing, shoes, gifts and accessories I can find."
In addition to providing her shoppers with the very best
in terms of children's retail, she credits the shop's success
to the amazing customer service Southern Belles provides.
Complimentary gift-wrapping, detailed monogramming
and baby registries are just a few of the services she offers.
With a knowledgeable and dedicated staff rounding out
the Southern Belles shopping experience, it's no wonder
they consistently get voted the best year after year.
To learn more, visit
www.southernbelleschildren.com
or call
843-881-1741.
By Kalene Mccort
From first birthdays to first Holy communions, Susie
Molony has been there to dress children through all the
special events of their youth.
Photo courtesy of Southern Belles.
Longevity
22
Companies that have passed the test of time are the backbone of the Mount Pleasant business community.
MPBM
www.MPBusinessMag.com
|
www.MountPleasantMagazine.com
|
www.readMPM.com