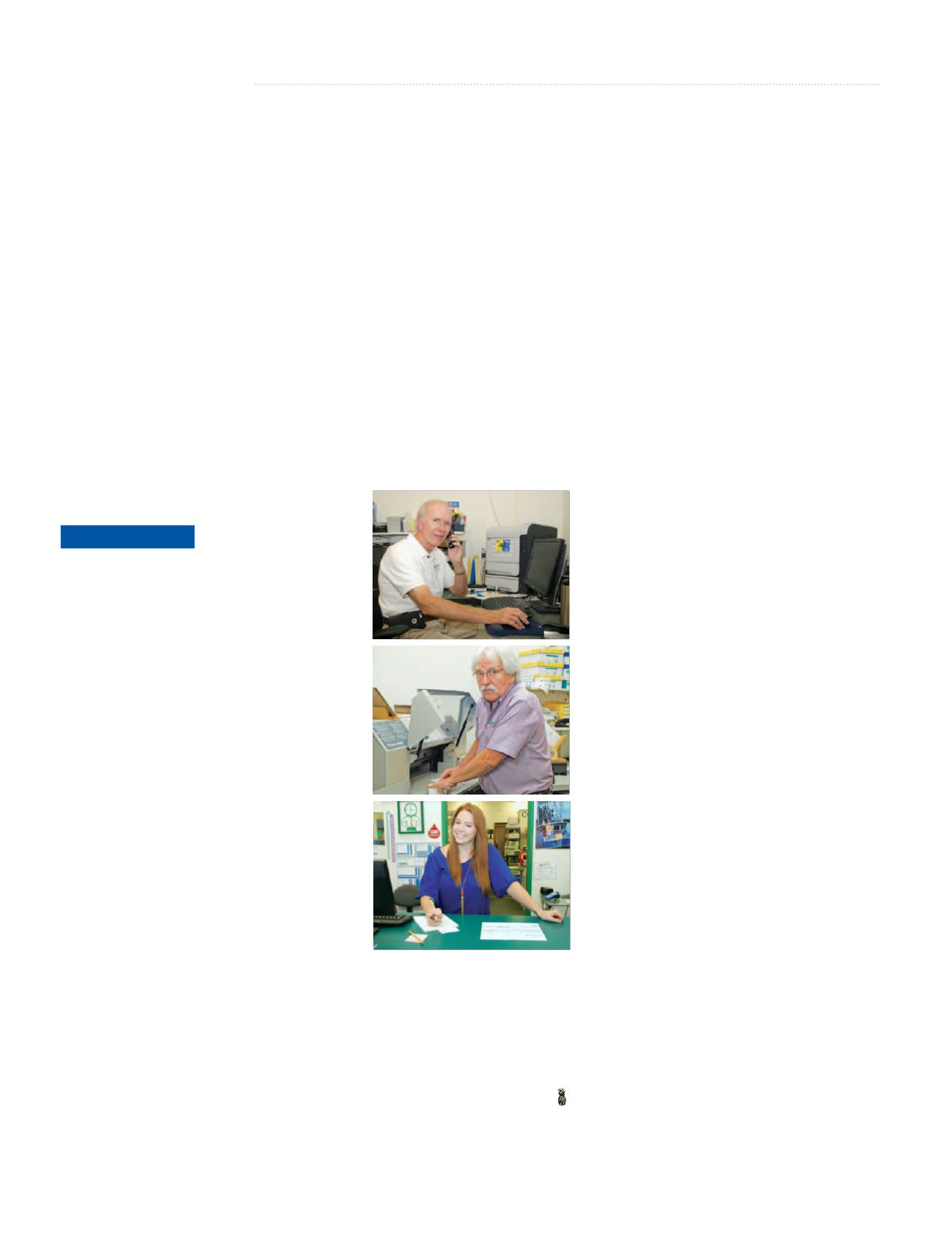 The JobYou Needed
Yesterday
Minuteman Press
B
uddy Smith only thought
he was retiring from the working world
when he left his job following a 36-year
career with Roadway Express. Thirteen
years after purchasing a Minuteman
Press franchise and locating it in Mount
Pleasant, he stays busy
running the business, compiling printing
quotes, sending out
invoices and serving
as its only salesman.
And, if you need your printing job
delivered to your door, that task will be
handled by the owner of the business as
well. It's all part of Smith's attitude that if
you treat your customers right, they'll keep
coming back.
"No one will beat our customer service,"
said Smith, who managed Roadway Express
facilities all over the Southeastern United
States before moving to the Lowcountry
from Greenville. "Because we're small,
we're flexible. That's the beauty of a small
operation."
With Roadway, Smith managed
500 people at a distribution center. At
Minuteman Press, he has only two other
full-timers and one part-timer. One of
those employees is Richard Geisert, a
veteran of the printing business who has
been with Smith since the beginning.
"As luck would have it, I hired Richard
before I even opened," Smith explained. "He is my
franchise. He really knows printing."
Geisert's vast experience is exactly what Smith needed
to launch his new business venture. His own experience in
the world of printing consisted of two weeks of training in
New York after he bought the franchise.
Minuteman Press offers a wide range of printing
options, from business cards to posters, banners,
By Brian Sherman
booklets, letterhead and envelopes, "just about anything
a business would need," according to Smith. He also sells
promotional products.
Smith pointed out that much has changed in the
printing business since he opened his doors in July 2003.
He said he got rid of his offset press around two years ago,
and everything he prints today is digital.
That means he doesn't have to charge his
customers to set up a press and that in
quantities of 250 to 1,000, his pricing is
more than competitive. It also means he
can turn a job around in record time.
"I've got quality people, but I have
good equipment as well. We have the
latest equipment as far as digital output,"
he said.
Technology also has changed the way
Smith deals with his clients. He said 90
percent of his customers contact him
by email or get printing quotes on the
Minuteman Press website.
"The computer and email are our
lifeline," he said, adding that customer
service is the heart of the business.
"If you walk in the door and you
need a job right away, you're going to
get it right away, and we never add a
rush charge," Smith said, pointing out
that with Minuteman Press, there's no
delivery charge either.
"When I say free, I mean free," he
remarked.
And when he says he'll do whatever is necessary to
impress his customers, he means that as well. Hence
his company's motto: "Printing for the job you needed
yesterday."
Minuteman Press is located 920 Houston Northcutt
Blvd., Building A3. To learn more, visit
www.chsmmp.com
or call 843-388-2599.
The full-time employees at
minuteman Press include, top
to bottom: owner Buddy Smith,
richard Geisert and Kayla evett.
Photos by Brian Sherman.
MP Business
mPBm
www.mPBusinessmag.com
|
www.mountPleasantmagazine.com
|
www.readmPm.com