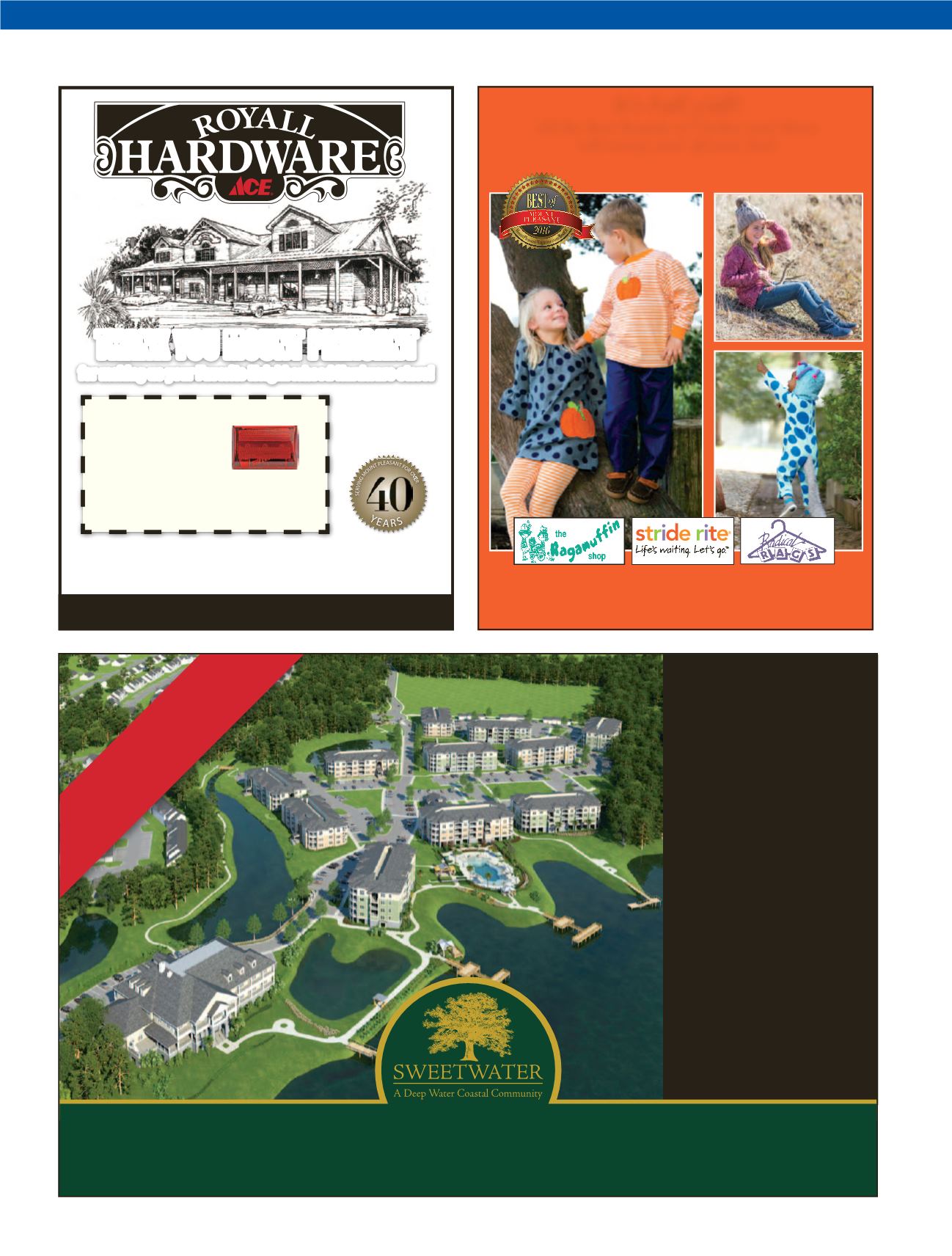 MPBM
www.MPBusinessMag.com
|
www.MountPleasantMagazine.com
|
www.ReadMPM.com
Bring in this Ad to receive a
FREE LED
Safety Flasher
While Supplies Last
for your bike or for Halloween Safety
(Item No. 9127747 $1.99 value)
Onecouponpercustomer.Expires10/31/16
883 Ben Sawyer Blvd. • (843) 884-2551
www.AceHardware.com
PAINT • LAWN & GARDEN • LAMP REPAIR • PUMP REPAIR
Come See Our
NEW
Marine
Department
40
THANK YOU MOUNT PLEASANT
for making us your Favorite Neighborhood Hardware store!
The Common • 210 Coleman Blvd., Mt. Pleasant • 884-4814
www.ragamu nchildrensboutique.com
It's Fall y'all!
All the Best Brands of Clothes and Shoes
will sweep your o your feet!
COORDINATING HOLIDAY | COTILLION | DANCE SHOP | MONOGRAMMING
Thanks for voting us the Best of Mt. Pleasant!
Newborn to 7 Expert Shoe Fitters Girls & Boys Tween & Teen
Waterfront with
Luxury Features:
Studio, 1, 2 & 3 Bedroom
Floorplans • Spacious
Screened-In Porches
• Energy Efficient
Stainless Steel Appliances
• Boat Ramp &
Community Docks
• Resort Pool with
Cabanas • State-of-the-Art
Fitness Center • Walking
and Bicycle Paths • Pet
Parks • Greenhouses
• Great Location Minutes
from I-526
Charleston's Only Apartment Community with Deep Water Access!
Call us today for more details! (843) 608-0758 •
www.SweetwaterCharleston.com
Now Pre-Leasing
for Fall 2016 Opening