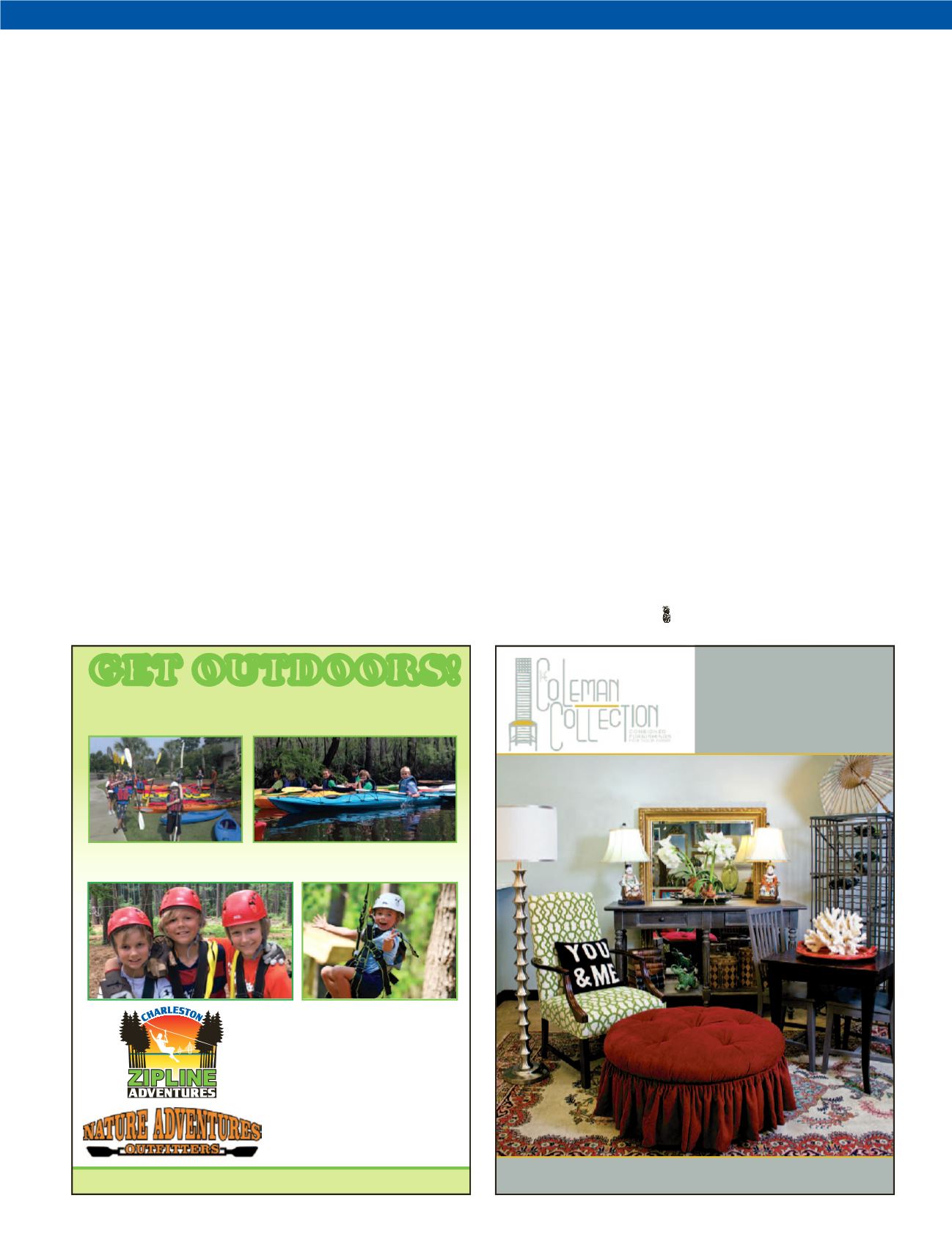 complimentary resort trolley. By water or roadway, you
have the freedom to journey into The Holy City, explore
the cobblestone streets and make it back in time to enjoy
tasty appetizers on the elaborate wraparound porch. Fishing
excursions, live music on-site, an award-winning restaurant
right on the premises and a full-service spa are sure to keep
you entertained throughout your stay.
"We have enhanced the undeniable beauty of our
incomparable waterfront location right on the banks of
the Charleston Harbor, which has always set us apart from
other properties in the area," said Hartman. "We now have
a true luxury option for the most discerning traveler. We
are proud to have been accepted as one of the distinctive
properties in the Leading Hotels of the World Collection –
which I think speaks volumes to the standard of quality and
excellence we have achieved with The Beach Club."
Whether for business or pleasure, The Beach Club offers
the modern-day traveler a slice of paradise.
While the new additions of two heated pools amid
an expansive deck, complete with private cabanas, will
certainly be a draw for future travelers, Hartman credits the
company's embodiment of Southern hospitality to be the
real lure.
"I think the key to our continued success will be our
focus on providing personalized service and customized,
authentic experiences that truly give our guests a feel for
Charleston and the aspects of our destination which interest
them," said Hartman. "For some, this will mean being out
on the water – whether sailing, offshore fishing or paddle
boarding on Shem Creek. For others, it could be a culinary-
focused experience centered around the diverse flavors of
the South or a fun-filled family vacation where everyone
can gather on Moonlight Movie Mondays and watch
family suitable movies under the stars, in our heated pool,
overlooking the Charleston Harbor and downtown skyline."
One of the many new additions comes in the form of
a 30-seat movie theater, perfect for premieres or relaxed
gatherings with friends. A 20-seat boardroom is the ideal
place to creatively collaborate with co-workers.
"I think that Mount Pleasant in its own right is a town
rich in culture, history and pride," said Hartman. "This is
evident on a drive through Old Mount Pleasant or while
taking a walk along the boardwalk on the marshes of Shem
Creek. Mount Pleasant now has a true waterfront, luxury
resort, which I think will help us in establishing the town as
a destination unto itself."
MPBM
www.MPBusinessMag.com
|
www.MountPleasantMagazine.com
|
www.ReadMPM.com
GET OUTDOORS!
AFTER SCHOOL ADVENTURE PROGRAM
STARTING SEPTEMBER 7TH
$100 per student
4 weeks / 4 Adventures
Transportation Available $10 / child
Call for more information
843-928-3947
843-568-3222
NatureAdventuresOutfitters.com
/
CharlestonZiplineAdventures.com
ZIPLINING | CLIMBINGWALL | KAYAKING
PADDLEBOARDING | HIKING
Wednesday 6-8th grade | 4 - 6pm
Thursday 3-5th grade | 3 - 5pm
976 Houston Northcutt Blvd.
Mount Pleasant, SC 29464
843-654-9046
Monday through Saturday
10 to 5:30
Photos of ever-changing inventory posted regularly to…
facebook.com/thecolemancollection